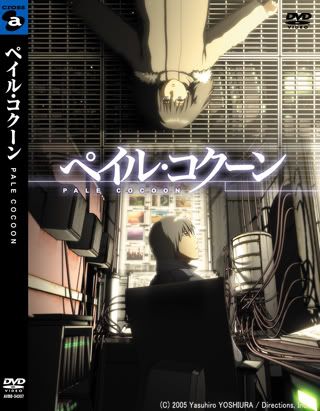 What if the chaotic world we're living in is just the dream of every child in the future. What if all the green in the world will be replaced with rust, filth and dirt.
Pale Cocoon is a master piece created produced and directed by
Yoshiura Yasuhiro, it tells the story of Ura an employee in the Record Excavation Bureau, a futuristic organization that is trying to collect and recover records left from the old world, the world that we now live in. One day Ura finds a strange record and tries to recover it with the aid of Riko a friend of him.
There isn't anything else to be said for it might be counted as spoilers. The OVA is 22 minutes long and its just one episode. The animation and drawing is brilliant, I've seen nothing like it. The design of the future world where people live in underground layers, since the sky is gone, is amazingly crafted with ghostly flares that make it look real. The story line is not linear, it moves briskly and might catch you off guard from the first view. This anime would appeal to most science fiction fans that are more into science fiction mystery than space wars and aliens.
-------------------------------------------------------------------------------------------------
Name: Pale Cocoon
Genre: Drama, Science Fiction
Format: OVA
Length: 1 episode, 22 minutes
Awards: Best Screenplay at the 1st Sapporo International Short Film Festival and Market (SAPPORO Short Fest '06)
-------------------------------------------------------------------------------------------------